Back to Participants
We also encourage you to take part in a research study about your new child's health called TARGet Kids (Toronto Area Research Group) which picks up where the Ontario Birth Study leaves off by following your child's health as they grow and develop.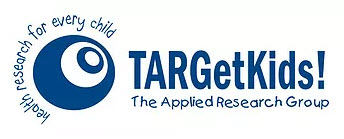 With the aim of "health research for every child" TARGet Kids collects medical evidence on common health problems affecting urban Canadian children. TARGet Kids has a special focus on measuring the nutrition and health in early years of life. This is the first group in Canada to study children in community settings with a goal to promote wellness and prevent disease.
TARGet Kids is a network of Sickkids child health researchers and community doctors dedicated to improving the health of young children. TARGet Kids operates out of a number of primary care pediatric and family medicine practices in Toronto.If you do not have a primary care physician for your child you might consider choosing a TARGet Kids! affiliated practice so that you can participate in TARGet Kids!.
For more information please visit the TARGet Kids website!
If you wish your child to be enrolled in a TARGet Kids practice we will share your information regarding your unborn child with the pediatric staff for preparation for your first office visit.